Landif is a Divi Landing page ideal for companies offering a product, course or service. The design ensures minimal effort in setting up a striking landing page for your startup, plugin, app, offline business or software services.
BROWSER COMPATIBLE: IE9+, FIREFOX, SAFARI, OPERA, CHROME
REQUIREMENTS: WP 5.5+ And Divi Theme 4.6+
*All Licenses options are subject to a yearly license for support and updates (with exception of a Lifetime license). The "Lifetime license" it is a one-time fee and includes lifetime support and updates.
View terms.
From the experience in building effective Landing pages that convert visitors into customers, Landif was born a Divi Landing page that combines an attractive design with a layout that guides the user towards the main goal: The conversions.
If you are very attentive to detail, you will love the unique vertical design of the module tabs a detail that combines the design a simple and intuitive user experience, essential for obtain the maximum results from your Landing page.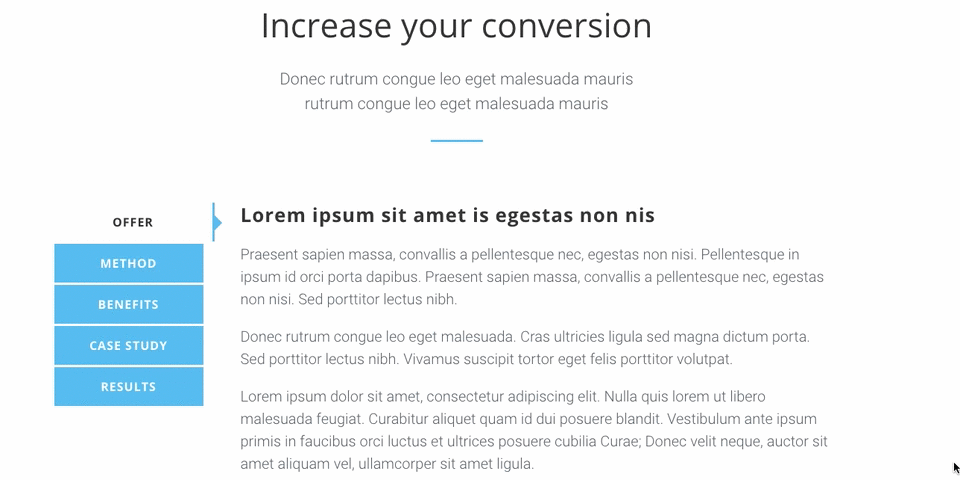 You can use Landif for any purpose. The design of its layout gives you maximum flexibility and allows you to build the best Divi landing page for any course, product or service.
Visual Builder
Landif is 100% compatible with Divi Front-End Editor.
Menu Mobile Custom
The details are fundamental and the mobile menu is custom too.
Mobile Optimization
Each element is designed to be 100% responsive on all devices.
One-Click Install
With a single click you can import the entire demo content.
Custom Optin-Form
Add your CRM credentials and convert your visitors into customers
Login Editor Page
Inside the customizer an exclusive editor to customize the login page.
Start building your next Landing page with Landif
It takes just few clicks to install Landif!
What our customers are saying
Are you a Divi user? Check what Divi users say about Creative Child Themes.
"It is a pleasure to work with Fabio! He is a very talented Wordpress developer & designer, we couldn't be happier with the job he did for us. Thank u very much Fabio look forward to many more projects in the future!"
Javier Alvarez
Founder at Realty Back Office
Fabio has an amazing eye for beautiful user experiences, and websites that look phenomenal. I've followed his work for ages, and am looking forward to anything this guy shares in the future! He's a Divi legend already.
Dominic De Souza
Branding & Visual Designer
Just great! Beautiful designs and amazing support from Fabio- he is not only super kind but also replied immediately and solved a problem I encountered in an instant. Big recommendation!